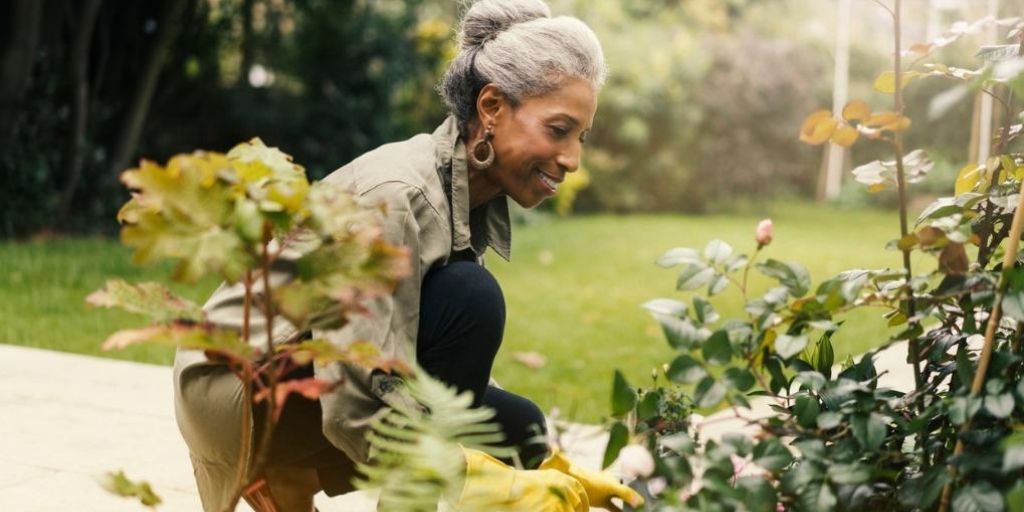 Seven challenges women face in retirement planning
Jan 17, 2022, 7:12:12 PM
| Reading Time: 5 minutes
Now, more than ever, women are taking ownership of their finances, asking tough questions, and making the choices that are best for their situations. However, a large percentage of women also don't feel confident about their retirement planning, according to the Midland National white paper, Empowered. If you're a woman, this lack of confidence, along with other hurdles, can make developing your retirement plans seem difficult. In order to help achieve your financial goals for retirement, you may want to consider the following roadblocks as you plan for retirement.
1. Receiving limited financial information
The Empowered survey found that 56 percent of women cited their employer as a place to learn about retirement. While the workplace can be a helpful resource for women looking to educate themselves on the basic benefits available, such as a 401(k), it's a good idea to develop retirement goals and assets with a resource outside of work. A financial professional, for example, can help by recommending additional products and services that can address their needs beyond employer-based solutions. An outside financial professional can also help you implement financial plans and provide transitional advice if a significant change happens in your life, like a job loss or retirement.
2. Unequal pay
In order to save enough, women must earn enough. This could present a problem if they are earning less than they desire. As you can imagine, this will likely affect women's retirement savings. If you are earning less than you wish, you could discuss your salary with your boss. Negotiating can be critical for women. According to leanin.org, women who ask for a raise are more than twice as likely to get one as women who don't.
3. Increasing cost of health care
Rising medical costs make healthcare a top concern for all retirees these days, but it's especially important for women. Expected health care costs during retirement are about $83,000 higher for women than men, according to a 2017 study by HealthView Services. Given the greater longevity for women and the likelihood of smaller savings, in addition to the factors above, it may be vital that you create a strategy to plan for healthcare costs. You could consider a health savings account (HSA) that offers tax-free contributions and can be used for out-of-pocket expenses. IRAs and annuities can also be good options to explore. To help determine what may be the right option for your needs, you should talk to a financial professional.
4. Living longer
In general, women live longer than males by an average of six to eight years.1 That means that they will most likely need to have more money to cover their retirement. This may also mean they typically have less money saved up. One in four 65-year-olds also makes it past the age of 90, so it can be ideal to have a plan that accounts for longevity and allows you to save more. You want to make your retirement funds last.
5. Factors affecting Social Security
Many women often decide to leave their jobs so that they can focus on raising their kids. If you decide to give up your job for your family, keep in mind that you'll receive less money after retirement from your individual Social Security benefit because you are no longer paying monthly. Other factors like divorce or remarriage can affect how much money you receive as well. In the event of a divorce, you should consider visiting the Social Security website to learn more about how this life change might affect how you receive certain benefits. If you happen to find yourself in one of those situations, it could be important to make sure you have other plans in place to fund your nest egg, so you aren't solely relying on social security money.
6. Lack of retirement process knowledge
Empowered reveals that many women are approaching retirement with uncertainty, and often describe it as scary and unknown. They feel less financially secure and less knowledgeable about the retirement process than men. When asked what would help them feel more confident, survey respondents indicated that having more money to work with would make them more confident. More secure market/economic conditions, having a plan, and advice from a professional were also cited as important confidence boosters.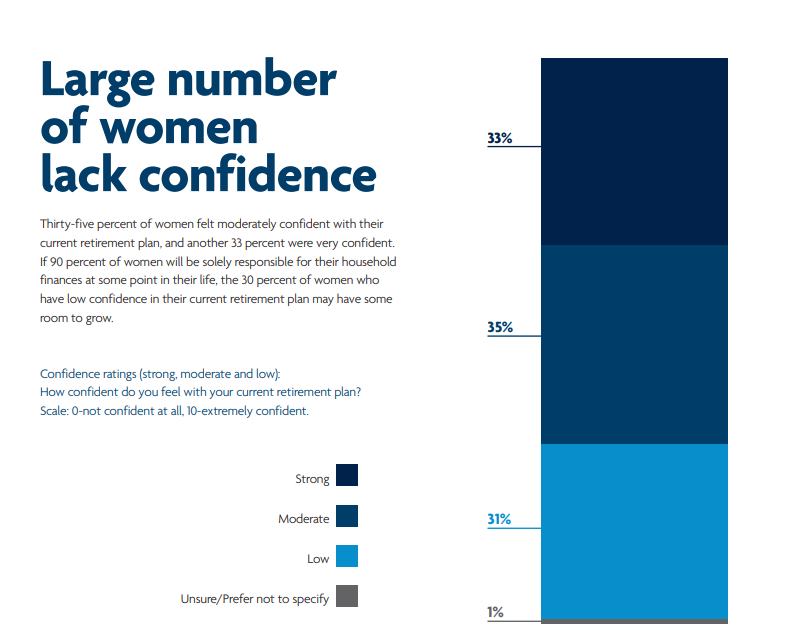 From Midland National's Empowered – Women and Retirement white paper
7. Expressing retirement concerns
Women are navigating an industry that just a few decades ago was almost exclusively run by – and dealt primarily with – men. This shift leaves a lot to be explored as women and men approach, think about, and manage money differently. Today the vast majority of women are likely to manage all household finances. In fact, 90 percent of all women will be solely responsible for their household's financial well-being at some point in their life, due to singleness, divorce, widowhood, or simply by choice. As financial managers, women have different money concerns than men. They often seek security, according to the survey, citing peace of mind, emergencies, and health care as the most important reasons to save. Women are also significantly more concerned about saving for emergencies and mortgage or rent expenses than men. These priorities are important when planning long-term goals like retirement, so it's important that they are honestly discussed with a significant other.

From Midland National's Empowered – Women and Retirement white paper
---
The general consumer study was conducted Nov. 6-19, 2017, and included 400 females and 200 males, age 40 and above. The agent study was conducted Nov. 17 to Dec. 12, 2017, and included 257 Midland National agents including both men and women.
The analysis is for educational purposes only. The experience of the participants of the 2017 Study may not be representative of the experience of all.
Neither the Company nor any agents acting on its behalf should be viewed as providing legal, tax, or investment advice.
The term financial professional is not intended to imply engagement in an advisory business in which compensation is not related to sales. Financial professionals that are insurance licensed will be paid a commission on the sale of an insurance product
1.Source: World Health Organization
B09-MN-8-20