Explore your Midland National life insurance needs
Midland National life insurance can do more than you would expect.
Maybe your financial professional recommended Midland National Life Insurance Company and you want to learn more. Or life insurance has been on your to-do list longer than you'd like to admit and you're starting to research your options.
Getting started can feel overwhelming.
Getting started is the hardest part when developing a financial strategy for the future. Before you begin, you may have questions or concerns like:
How can I take care of my family if I pass away unexpectedly?
I want to pass on an inheritance, but I don't know where to start.
I'm worried I won't be able to afford my future healthcare expenses.
Will I have enough to retire the way I'd like to?
Am I missing out on potential financial opportunities?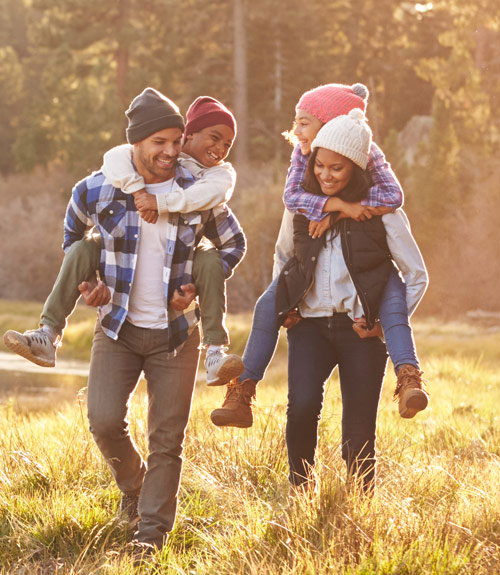 You're in the right place.
You're not alone in feeling overwhelmed. These questions and concerns cause some of the most finance-related worry for American consumers.1
But you're already in the right place. Life insurance through Midland National can do more than you'd expect: replace lost income, pass on an inheritance, supplement retirement income, provide protection while you're living, plus so much more.
The life insurance solution.
Midland National has been helping find solutions for clients just like you for over 100 years.
Three steps to help protect your future.
Ready to start working toward a future with a little less uncertainty?
Connect with a financial professional to discuss your needs for the future. Don't have one? Let us help you find one near you.
Work with your financial professional to find the right Midland National life insurance product to meet your needs.
Then, work with your financial professional to apply for a policy online or submit a paper application.
A company you can count on.
When choosing a life insurance company to help you plan for the future, strength and stability counts—and Midland National has the track record to prove it.
From top financial rating companies.3
Life insurance and annuity policies.4
Of helping people plan for the future.
Talk with your financial professional today to see how Midland National can help you secure your future with life insurance.
Don't have a financial professional?
We can connect you with one.
Find one today
The term financial professional is not intended to imply engagement in an advisory business in which compensation is not related to sales. Financial professionals that are insurance licensed will be paid a commission on the sale of an insurance product.
1. Subject to eligibility requirements.
2. Policy loans from life insurance policies generally are not subject to income tax, provided the contract is not a Modified Endowment Contract (MEC), as defined by Section 7702A of the Internal Revenue Code. A policy loan or withdrawal from a life insurance policy that is a MEC is taxable upon receipt to the extent cash value of the contract exceeds premium paid. Distributions from MECs are subject to federal income tax to the extent of the gain in the policy and taxable distributions are subject to a 10% additional tax prior to age 59!, with certain exceptions. Policy loans and withdrawals will reduce cash value and death benefit. Policy loans are subject to interest charges. Consult with and rely on your tax advisor or attorney on your specific situation. Income and growth on accumulated cash values is generally taxable only upon withdrawal. Adverse tax consequences may result if withdrawals exceed premiums paid into the policy. Withdrawals or surrenders made during a Surrender Charge period will be subject to withdrawal charges, processing fees, or surrender charges, and may reduce the ultimate death benefit and cash value. Surrender charges vary by product, issue age, sex, underwriting class, and policy year.
3. S&P Global Ratings awarded its "A+" (Strong) rating for insurer financial strength on February 26, 2009 and affirmed on May 24, 2023 to Midland National Life Insurance Company as a member of Sammons® Financial Group, Inc. The "A+" (Strong) rating is the fifth highest out of 22 available ratings as a member of Sammons® Financial Group, Inc. S&P Global Ratings is an independent, third-party rating firm that rates on the basis of financial strength. Rating shown reflect the opinion of the rating agency and are not implied warranties of the company's ability to meet its financial obligations.
A+ (Superior) rated by A.M. Best since 1980. A.M. Best is a large third-party independent reporting and rating company that rates an insurance company on the basis of the company's financial strength, operating performance and ability to meet its obligations to policyholders. A+ is the second highest rating out of 15 categories and was affirmed for Midland National Life Insurance Company as part of Sammons Financial Group on August 29, 2023. For the latest rating, access ambest.com.
A+ (Stable) Rated by Fitch Ratings. Fitch Ratings, a global leader in financial information services and credit ratings, on December 7, 2022, assigned an Insurer Financial Strength rating of A+ Stable for Midland National. This rating is the fifth highest of 19 possible rating categories. The rating reflects the organization's strong business profile, low financial leverage, very strong statutory capitalization and strong operating profitability supported by strong investment performance. For more information, read the Fitch Ratings report.
4. Midland National Annual Statement 2022.
Life insurance policies have terms under which the policy may be continued in force or discontinued. Permanent life insurance requires monthly deductions to pay the policy's charges and expenses, some of which will increase as the insured gets older. These deductions may reduce the cash value of the policy. Current cost of insurance rates and current interest rates are not guaranteed. Therefore, the planned periodic premium may not be sufficient to carry the contract to maturity. For costs and complete details, refer to the policy or call or write Midland National Life Insurance Company, One Sammons Plaza, Sioux Falls, SD 57193. Telephone: 800-923-3223.
Texas Residents: Receipt of acceleration-of-life-insurance benefits may affect your, your spouse's or your family's eligibility for public assistance programs such as medical assistance (Medicaid), Aid to Families with Dependent Children (AFDC), supplementary social security income (SSI), and drug assistance programs. You are advised to consult with a qualified tax advisor and with social service agencies concerning how receipt of such a payment will affect your, your spouse's and your family's eligibility for public assistance.
985MW-1aREV 9-23