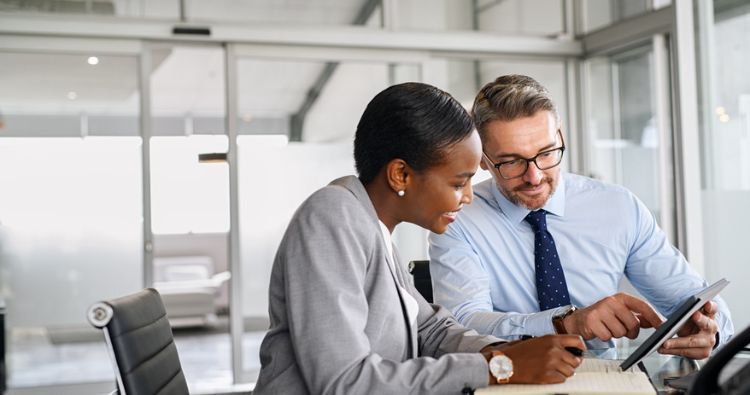 What to expect when meeting with a financial professional
Oct 9, 2023, 2:56:03 PM
| Reading Time: 6 minutes
Many consumers find that working with a financial professional helps alleviate concerns and provide direction for their financial journey. If you haven't had an opportunity to meet with a financial professional and are wondering what to expect, here's how to prepare for your discussion and make the most of your one-on-one.
What does a financial professional do?
A financial professional can help you identify your short- and long-term financial goals and develop a holistic strategy for reaching those goals. Financial professionals can help with common topics, including money management, budgeting, saving, investing, and planning for retirement. As experts in their field, they answer questions, discuss concerns, and provide solutions that could fit your needs. Most importantly, they can act as your partner with your best interest in mind to help you find balance and financial security.



Do I need a financial professional?
While a financial professional is not necessary for creating a financial plan, this person can act as your go-to resource for navigating the ins and outs of financial planning, no matter your current stage in life or your financial status. Acting in a supportive role, a financial professional can help you create a broad or detailed plan for your personal situation, goals, and timeline.



When to get a financial professional
Finding a financial professional can be beneficial at any age, but significant life events are excellent times to seek professional assistance. For example, graduating college, entering the workforce, getting married, starting a family, buying a house, or approaching retirement are all milestones where the guidance of a financial professional could be helpful. Together, you can conduct a financial check-up to review your finances, evaluate your spending, and determine if any changes need to be made to keep you on track.



Benefits of partnering with a financial professional
There are numerous benefits to consulting a financial professional who is up-to-date on the market and economic trends and is well-versed in the solutions that could help boost your financial wellness. Partnering with a financial professional can allow you to:
Get ahead of inflation
With high inflation rates, planning and keeping up with rising prices can be difficult. Inflation can affect a dollar's value and how long your savings will last. By working with a financial professional who constantly monitors the market and is on top of expected declines and inflation periods, you can better understand the market cycle, decide if adjustments need to be made, and learn how to build a plan that is more resilient to changing economic trends or market volatility.
Stay steady with your plan
Although there will be times when a financial professional may advise adjusting your current financial strategy to account for inflation or market changes, it is relatively normal for the market to fluctuate, and overreacting to temporary changes in the market can push your long-term goals off track. A financial professional can provide a voice of reason and let you know when to be concerned and when to remain steady while keeping your desired goals and timeline in mind.
Develop a diversified strategy
To better balance risk and reward and protect a portion of your financial portfolio from risks like market volatility, a financial professional can help you develop a diversified financial plan. This means you avoid "putting all your eggs in one basket" and can choose from various options to help you manage risk, increase savings, and work together to support the entire financial picture.
Prepare for the unexpected
Not only can a financial professional help you build an emergency fund into your overall financial plan, but they can also assist you if an unexpected event does happen. Several events can derail your financial life, like a significant illness or injury, a drop in the market, losing a job, or required car or house repairs. Your financial professional can discuss ways to create savings that can be specifically set aside if the unexpected does happen and help you successfully navigate the situation.
Protect your loved ones
If financially protecting your family's future is your goal, a financial professional can help you explore your options and the different types of life insurance that may work for you. By knowing your situation and stage of life, you can receive helpful advice on the type and amount of coverage you may need to protect your loved ones.
Leave a legacy
Creating an estate or legacy plan allows you to pass on your assets to your loved ones. A financial professional can help streamline this process and share tips for communicating your wishes, building a plan that maximizes your assets, and how to leave behind a legacy you can be proud of.



How can I move forward with selecting a financial professional?
It's understandable to feel hesitant sharing your financial information with a professional but remember, they are here to help you make confident decisions toward achieving your current and future goals. There are different types of financial professionals, often with unique specialties, education, and certifications. Some may focus on investing and retirement strategies, while others specialize in life insurance or estate planning. Researching and asking specific questions is a good idea to find which will best match your needs.
Working with a financial professional for retirement
Financial professionals specializing in retirement can help you create long-term strategies built around reaching your retirement savings goals. They can advise on tax planning in retirement, investment options, annuities, and more. Retirement professionals can also assist with ensuring your legacy lives on through estate planning.



How do I prepare to meet with a financial professional?
To get ready to meet with a financial professional; there are several things you can do to get your finances in order and make the most of your time together. Gather all your account logins if necessary, get your pertinent financial documents ready, and list a few ideas of the goals and topics you would like to discuss. Having a goal for your meeting will help direct the conversation, but your financial professional will likely kick off with some fact-finding questions to better understand your situation and what you're hoping to accomplish.
Come ready with financial planning documents
Help a financial professional understand your current financial situation and goals by bringing all necessary documentation, including bank statements, paychecks, debt summaries, and insurance plans. Having these documents handy can help your professional create a more holistic financial picture, where they can then better understand your current financial situation, your risk tolerance, potential income gaps, and how they can best help you move forward.



What questions could I ask a financial professional?
Coming prepped with questions can help you get to know your financial professional better and their specific approach. You may also have specific questions or concerns about your finances and may be looking to boost your own knowledge in order to understand the products and solutions that could be a good match. Your first meeting can help you decide if you're well-matched with this professional and can trust them to listen to your specific needs objectively. Some questions to consider asking your financial professional include:
What are your qualifications and background?
How often do you suggest we meet?
How are you compensated?
What is your investing philosophy?
How frequently do we review my financial plan?
What asset allocations do you typically recommend?
What benchmarks do you use to monitor progress?
How much risk can I afford to take on?
How do you help me keep my financial goals on track?
Working with a financial professional can be a positive experience and help you feel more empowered about your current situation and your ability to get to where you'd like to be financially. No matter your age or financial status, working with an expert can make money management easier to understand, and you can explore how different solutions, like annuities and life insurance, can help you reach your goals. Together, you can create a solid financial foundation that you can continue to build upon for many years.
---
The term financial professional is not intended to imply engagement in an advisory business in which compensation is not related to sales. Financial professionals that are insurance licensed will be paid a commission on the sale of an insurance product.
B1-MN-10-23