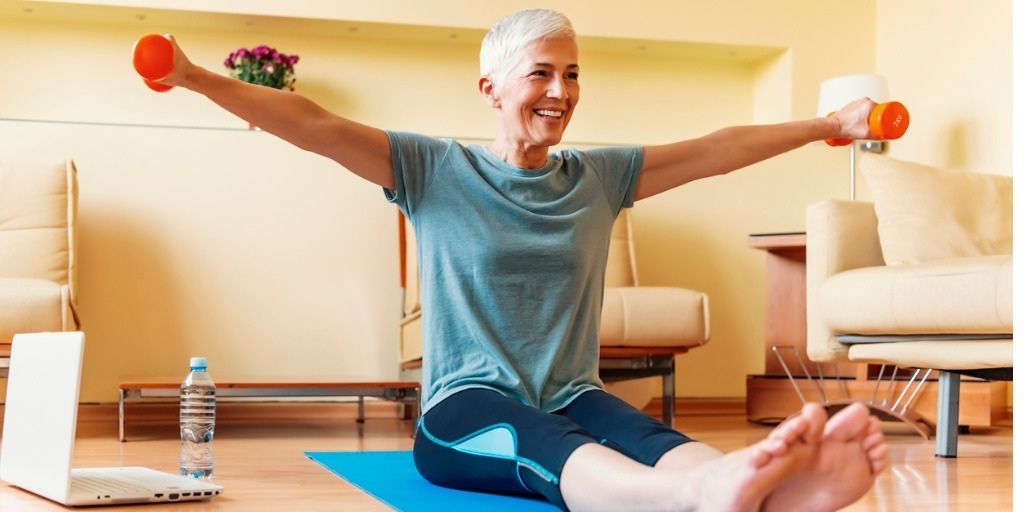 7 fitness suggestions for quarantine
Jun 9, 2023, 8:06:27 PM
| Reading Time: 3 minutes
You don't need to give up your exercise routine just because the coronavirus is keeping you at home. There are a variety of fitness activities you can do in self-quarantine to stay healthy. Here are some suggestions to get your body moving, even if you don't have access to gym equipment.
1. Go for a walk or run
A walk or run outside is a great way to get some exercise and fresh air. Exposure to sunlight will give you much needed Vitamin D and will improve your energy levels and your mood, especially in stressful times. When you walk or run, try mapping out different routes each day to keep the routine fun. You may also consider setting goals for yourself, such as training for a 5K. If you do go out, remember it's important to take safety precautions for COVID-19, including social distancing of six feet, covering your face, and washing your hands with soap and water for 20 seconds when you get back.
2. Walk up and down the stairs
Walking up and down flights of stairs in your apartment or house is a simple and highly effective workout that you can do anytime. Try walking up and down five flights for 15 minutes or a half-hour each day for a guaranteed sweat, and quick improvement in your fitness and endurance. When you get used to stair climbing, you can add hand weights to the routine to work out your arms. Don't have hand weights? Use canned goods or full water bottles.
3. Watch online workout videos
Streaming services make finding video workouts a snap! Many online providers like Netflix, Hulu, or Amazon are now offering free classes to help you stay fit during the pandemic, so be sure to search for them. A simple web search or YouTube search will also point you to hundreds of sites with free workout videos, like Fitnessblender.com. Try looking for the type of workouts you want, such as cardio, weight loss, or weight training. Once you find a few, give them a try to figure out the best routine for you. If you're a member of a gym or studio, it's a good idea to see if they offer any virtual classes for members.
4. Download a free workout app
There are thousands of free and paid apps available for Android or iOS that will help you exercise with step-by-step instructions, while you're at home. During the pandemic, some subscription-based apps are being offered for free or they offer a free trial.
5. Use Your body weight
If you don't have free weights at home, no problem. Bodyweight exercises are quick and easy, but also great for decreasing body fat, increasing mobility, and building muscle. Exercises like push-ups, burpees, frozen v-sits, and spider crawls will all help you stay active and in shape. The names may be funny, but the exercises are very effective! Search for some of these bodyweight workouts and get started.
6. Take a yoga class at home
Yoga is a popular exercise that you can do at home. Yoga typically involves breathing, stretching, movement, and postures that improve flexibility, build muscle, and decrease stress. There are numerous online sources out there that offer free yoga sessions on demand. Look around to see what you can find, and test out different sessions to find the right fit.
7. Play exergames
You may not think of video games as a good source of exercise, but there are a variety of active-play videogames available on most gaming consoles that will give you a good workout.
---
REV 6/2020